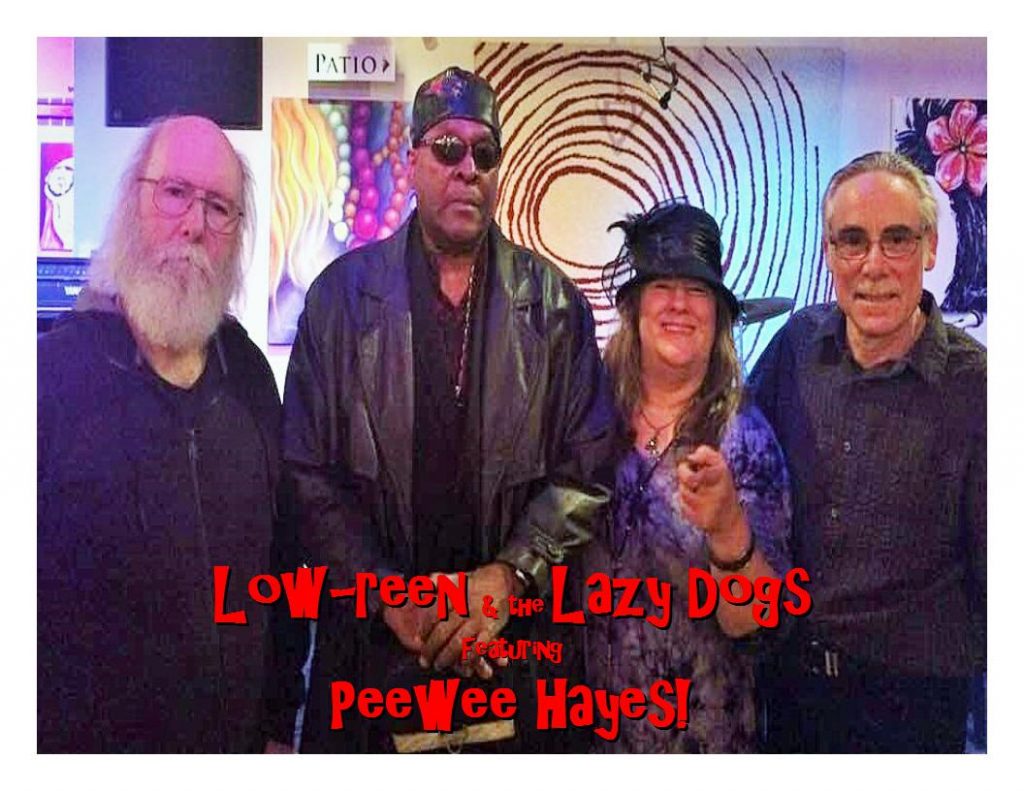 Low-reen & the Lazy Dogs featuring Peewee Hayes began performing together in 2014, with Peewee Hayes & Low-reen on guitars & vocals, Dave Morris on bass, & Frank Laubringer on drums. Searing Urban Blues is what you get when Low-reen teams up with Peewee, who's crying blues guitar grabs at your very soul!
Low-reen on growling vocals, telecaster, and bass guitar is a songwriter who brings her sizzling hot Chicago Blues to entertain old and new fans alike. Low-reen has a soulful sultry voice carefully curated by smokes & whiskey 🙂 that many have compared to Janis. Low-reen has been influenced by many many musicians before her, from Chicago's own Robert Nighthawk to Muddy, Honeyboy to Wolf, Magic Sam to Jimmy Reed, as well as rock's bluesier side Grateful Dead to Rolling Stones. Low-reen picked up guitar later in life, influenced by her friendship with her mentor David Honeyboy Edwards. Low-reen took a few classes at Old Town School of Folk Music with renowned guitarists Eric Noden & Chris Walz. Low-reen honed her skills as a musician and vocalist as well as an entertainer, sitting in with and playing alongside legendary Chicago Blues musicians such as Tail Dragger, Elmore James Jr, Little Scotty, Tony Brown, Charles Delta Blues Hog Hayes, Peewee Hayes, Bobby Too Tuff, Paul Petraitis, Rockin' Johnny, Eddie Taylor Jr, Willie Buck, Killer Ray Allison, & LT McGee. All that good mojo has rubbed off!
Peewee came to Racine from Alamo, Tennessee at age 8, immersed in a musical family, growing up around greats such as Sleepy John Estes, Yank Rachell, Washboard Sam, Montel Cox, B.B. King, Little Milton, the original Sonny Boy Williamson, and his father, the late Roland 'Blue Dad' Hayes. He has reached legendary status as a Blues musician and entertainer, carrying on the Hayes musical tradition with brothers Charles Delta Blues Hog Hayes & Jojo Hayes. Peewee has self-produced several CDs, including The Game Is Over. After many years of performing, Peewee is really busting out in a big way, playing venues large & small all around the country, from exclusive private New York parties to Telluride Blues Festival! Recent area shows with Low-reen & the Lazy Dogs include Studio Winery and Waukegan's premiere monthly art event ArtWauk, among others! Low-reen & the Lazy Dogs are READY to BRING IT!
Check out Low-reen & Peewee's interview 2.29.20 @ Milwaukee's WMSE 91.7 FM Blues Drive with Sonia Khatchadourian!
Interview starts at 37: 50